Neumann Family Genealogy


The Neumann family first appears in the records in the Marienburg (Polish Malbork) region of West Prussia, near the Nogat River, which branches off, to the north from the Vistula River. Marienburg was the site of the Teutonic castle built in 1274, which served as capital for the Teutonic Knights. In the 17th century Mennonites were allowed to pursue trades on the grounds of the castle and in the latter part of the century they were permitted to hold religious services there.
My family story starts in the village of Kalthof (or Kaldowe), Danzig Territory, West Prussia. This was a village nearby. Tradition says that the Neumann's were of Lutheran background. A 1776 census of Prussian Mennonites does not list any Neumann's in Kalthof, although there are other Neumann's in other villages but we don't know how or if they are related to our family.
I have begun the research into the Neumann Family through my local Latter Day Saints Church. It is very interesting looking through the microfilms and finding your family members. As I find new information I will post it here.
And here is how the story goes:
Parents: Johann Jacob Neumann and Anna "Elisabeth" Mutz, born January 30, 1832, Kalthof (Kaldowe), Marienburg, West Preuszen. Daughter of Johann Mutz and Anne Friedrich. They were married May 21, 1854. Children of Johann and Elisabeth:
Carl Heinrich Neumann born: March 5, 1859, Kalthof (Kaldowe), Marienburg Region, Danzig Territory, West Prussia
Anne Marie Neumann, born November 11, 1861, Kalthof, West Prussia
Friedrich Wilhelm Neumann, born July 8, 1864, Kalthof, West Prussia. I believe that he probably died as the next child has the same name
Friedrich Wilhelm Neumann, born April 5, 1869, Kalthof, West Prussia
(Note: Karl was the oldest of nine children. As I locate the other children I will post them here. Hopefully this will match with your research and we can find the other missing siblings

.)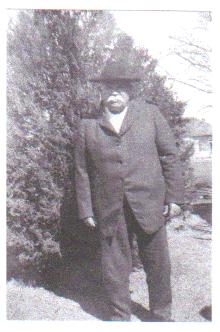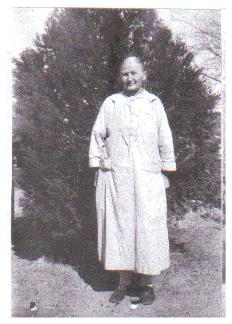 Approximately 1883, at the age of 24, Carl Heinrich Neumann with a friend named John Thimm moved to America, apparently to escape conscription into the Prussian army. The two young men landed in a Mennonite community east of Newton, Kansas, usually referred to as the Whitewater area.
Although it is believed that the Neumann's were of Lutheran background there must have been close associations with Mennonites in West Prussia as evidenced by Carl's stand on serving in the military. After landing in the Whitewater area Karl was baptized in May 1884 and joined the Gnadenberg (now Grace Hill) Mennonite Church near Elbing, Kansas. He would meet his future bride here.
Carl Heinrich Neumann married Henrietha Elizabeth Witt, born: March 11, 1858, Obernassau, West Prussia. They were married on June 2, 1884 in the Gnadenberg Mennonite Church. Carl and Henrietta lived in the Whitewater community until 1898, when they moved to Medford, Oklahoma. The family lived on a farm until 1919 when they moved into the city of Medford. Carl Heinrich Neumann died January 8, 1929, and Henrietta on February 28, 1938. Their surviving children were:
Henry P. Neumann, born: June 30, 1885, Walton, Kansas - died: February 21, 1956
Elizabeth Neumann, born: April 14, 1887, Whitewater, Kansas - died: June 24, 1968
Oscar K. Neumann, born: March 9, 1890, Whitewater, Kansas - died: September 26, 1969
Carl Johann Neumann, born: January 31, 1893, Whitewater, Kansas - died: November 16, 1961
Anna Neumann, born: August 1, 1895, Whitewater, Kansas - died: August 16, 1984
Ella Neumann, born: April 23, 1903, Medford, Oklahoma - died 1999
(For the sake of time and space I am only going to continue with my direct line of the Neumann Family Tree which is Carl J. Neumann. I do have the information on the rest of the Neumann line. If anyone is interested in that information, email me and I'll see that you get it.)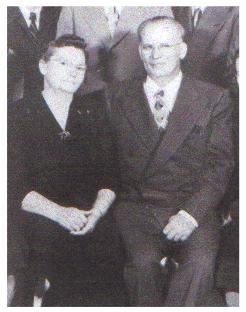 Carl J. Neumann married Elizabeth Gaede born: April 14, 1895, Medford, Oklahoma. They were married on October 7, 1915 in Medford, Oklahoma. Elizabeth's father, Heinrich J. Gaede, married them.
After living in Medford about two years the family moved briefly to Sahuarita, Arizona, about twenty miles south of Tucson, where irrigation farming was being introduced and a Mennonite community was developing. This venture did not succeed because of disputes over water rights so they moved back to Medford, where the family lived on two different farms for the next 10 years. In 1929 they moved to Dos Palos, California, where another Mennonite community was being established. However, economic problems forced the community to break up and one by one the Mennonites left. The Neumann's' were the last to leave. In 1936 they moved to Shafter, California where Carl and Elizabeth lived the rest of their lives. Carl died November 16, 1961 and Elizabeth on May 15, 1988. Their children are:
Irvin L. Neumann, born: August 7, 1916, Medford, Oklahoma - died: October 9, 1924
Edna G. Neumann, born: July 2, 1918, Sahuarita, Arizona - died: February 13, 1997.
Mildred Mae Neumann, Living
Ruth I. Neumann, born: May 25, 1921, Medford, OK - died: October 31, 2009 - Married Vernon Neufeld
Clarence Gene Neumann, born: February 9, 1823, Medford, Oklahoma - died: KIA WWII, December 6 1943
Mary Alice Neumann, born June 10, 1925, Medford, OK - died December 14, 2005
Carl Robert Neumann, born: - died: November 3, 2009
Rita Ann Neumann, born: October 31, 1929, Dos Palos, California - died: January 3, 1933
Donald Chester Neumann, born: December 14, 1932, Dos Palos, California
Richard Duane Neumann, Living. Married Marilyn Jean Bergen, Living.
Due to some very bad people out there I have deleted the rest of the information because of the possibility of identity theft. The remainder of the subjects are living.
To Continue with the family tree, click the Bergen Family Link

As previously mentioned, I do have more information on the Neumann line, with descendents not listed here. If you would like further information about our family, please click the link below to search my database. If you have further information about where to obtain Lutheran records in Poland I would appreciate the help. If you have a "Neumann site" with links to the Mennonites, Lutherans, Russia or Prussia, let me know so I can add a link to your site.

Special Thanks to my Uncle Vern for the information he has provided.

Please sign the Neumann Guestbook before you go. Help us Neumann's all find each other. The person you're looking for maybe the next one to view the guestbook. If you haven't entered your information you'll still be strangers instead of newly found family. Let me know what you think and leave information about other Neumann Websites.

You can now add a link to your Neumann, Newman, Neuman Website. Spelling is not important as the name Neumann was changed to various spellings during the immigration from other countries. IF YOU ARE TRYING TO CONTACT LOST FAMILY MEMBERS OR MAKE A GENEALOGY CONNECTION DO NOT MAKE THE MESSAGE PRIVATE. NO ONE WILL SEE IT BUT ME. All the information I have on this family is available at Search My Entire Database On Rootsweb. If the information is not here - I don't know it, sorry and there is no need to email me.