Julie Nelson Lahmeyer - A Remembrance
My family was quite blessed to be able to share in Julie's life. I am her cousin and spent most of my childhood growing up with Julie. As we got older and our own families began to grow we lost the closeness we shared growing up. I will never be able to forget her infectious laugh or her little pug nose. Even in her youth she always had a smile and a kind word for others around her.
Through Julie's ministry she touched so many lives. I was surprised at just what an impact she had on those she came in contact with until her memorial service. I heard miraculous stories of her friendship, faith in god, and her zest for life. The memorial service was a wonderful celebration of her life. People came from all the areas of the world that Van & Julie had spent time. I was so greatly touched; I left the memorial service with a renewed sense of faith and love of God. And to Julie, helping one person find their way back to Christ would have made it all worth it.
Those of us, not just family, who were blessed to share in Julie's life, have received such rewards. Even though she was younger than I was, I want to grow up to be just like her. Below is an article that appeared in the Fresno Bee shortly after Julie's death. It was written by Elizabeth Reeves Hulme, who was a roommate of Julie's in Fresno and later in Los Angeles when both were embarking on professional careers. Heck, they are beyond lifelong best friends!
LOVE OF GOD & CONCERN FOR PEOPLE ARE THE LEGACY OF A WOMAN'S BRIEF LIFE
A young life well lived and tragically ended is always perceived as too short. For the family and friends around the world of Julie Nelson Lahmeyer, her life, though too brief, leaves an inspirational blueprint for the living. The legacy she leaves us after 37 brief years is powerful. Powerful because she understood at a young age what it means to live a fulfilled life and she achieved it.
Julie's life is remarkable not only for its achievements, but also for the hundreds of people who counted her as a friend. In the words of her husband, Van, "She was so widely loved because she loved so widely."
The daughter of a farming supervisor and an artist, Julie spent part of her childhood in Iran before moving to Fresno. If a person's youth defines whom they become, then Julie's life was shaped by her summers spent chopping cotton and working on tomato harvesters. Her unbiased view of life was undoubtedly an outgrowth of those early experiences and living and working shoulder-to-shoulder with people of different races and walks of life.
Often working two or three jobs at a time during high school and college, her work ethic was unmatched by her peers. When asked what motivated her to such dedication, she would speak of how her own life was revolutionized by a commitment she made to follow the example of Christ.
Her diligence and perseverance served her well in both her studies and her outside interests. An honors student, Julie graduated from Roosevelt High School where she served as the editor of the school newspaper. A lover of books and a gifted writer, she was as comfortable in a physiology class as she was in a French class. Her love of learning took her to UCLA where she earned her Bachelor of Science degree in kinesiology. While at UCLA, she rowed 4 years on the varsity crew team. In order to maximize her performance on the water, she schooled herself in the nuances of nutrition.
Always looking for a new adventure, she took up cycling in the off season to maintain her peak physical condition. She was practical and clever; an expert seamstress who sewed her own clothes as a girl and once recovered an old thrift shop sofa as her roommate marveled at her ingenuity.
SERVING OTHERS
Yet her discipline and achievement were exceeded by her devotion to people. There are few accomplished people who can momentarily lay aside their determination to connect with and care for the people around them. For Julie this was as natural as breathing - an outgrowth of her love for God and for his most beloved creation. This deep-seated desire to serve others and her fascination with the science of the human body led her to pursue her registered nurse certification.
While in nursing school, she earned her tuition working in a psychiatric hospital and for a crisis help line. In her work and in her personal relationships, her sunny disposition and her profound compassion is what she is best remembered for.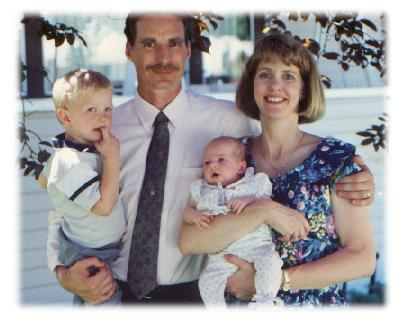 Out of school, Julie began practicing nursing and married a young seminary student, Van Lahmeyer. They moved to Spokane, Washington where her husband served as a youth pastor. They worked together as a team, listening to hurting young people and encouraging them. They began their own family, and shortly after, were called to serve in a church in Scotland. During this time, her third child was born. Friends were amazed that with three small children, Julie opened their home not only to all church people, but to neighborhood children and families as well.
As a busy and devoted mother, she was always current and could converse with equal ease on politics, parenting issues, education, health matters and matters of the heart. She radiated a joy for living and that drew people, young and old alike, to her.
Approximately 1995, Julie and her family returned to the states and her husband accepted the pastorate of a Presbyterian Church outside of Seattle. Here she began teaching parenting classes based on research and her personal experiences. On July 7, 1996, Julie's life ended on a two-lane highway in Oregon as she and her husband returned from a conference for college students to which they had taken a group of young people from their church.
A FULL LIFE
In an age where we have depreciated the meaning of the words "love" and "values," it is rare to find a life that so beautifully defines what we say, as a society, we want to be. While we pay verbal homage to the importance of work ethic, family values, caring for our neighbor and self-sacrifice, it is compelling to see a life which lived out these ideals without a lot of fanfare but with sincerity and commitment. Julie's life was a life fulfilled, however brief, because she learned quickly it's not about what you do for yourself as much as what you leave behindů..
________________________________________________________________________________

If you knew Julie, or are just touched by this article, please sign the guestbook before leaving. Julie was a special person and I feel sharing her triumphs as well as her tribulations with the rest of the world is the least we can do. In today's world we all need to be reminded that our strength truly does come from God.

Julie, we miss you and we celebrate that you are with God!

Julie Nelson Lahmeyer 5/31/1959 - 7/7/1996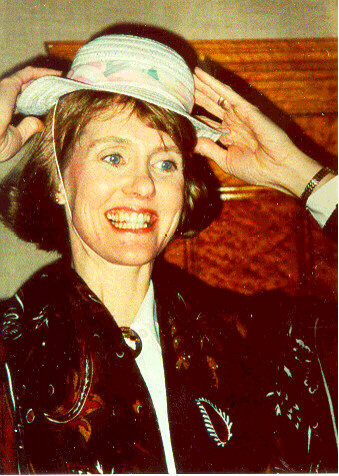 My Genealogy Pages | NASCAR Webrings | My Jeff Gordon Page | Contact Me