Bakersfield's Hometown Drivers
Bakersfield, California loves it's speed. The town has a long standing love with motorsports. Bakersfield has two very well known Race Tracks - Bakersfield Speedway, Mesa Marin Raceway, and a Drag Racing Venue at the Famoso Raceway, which is home of the Annual March Meets. Let's not forget about the Boat Drags at Lake Ming. The town has alot to be proud of. Bakersfield is also home to one of the most famous racing families - The Mears Family. Little known facts about racing and Bakersfield include the birth of the NASCAR Craftsman Truck Series. The first truck was built in a garage on the grounds of the Mesa Marin Raceway. With Bakersfield's reputation of being a country town, cowboys (cowboys love their trucks), country music, and agriculture, this was a natural place for the truck series to begin. Turkey Night was held in Bakersfield at the Bakersfield Speedway after ASCOT ended and prior to the current venue of Irwindale Speedway. Tony Stewart clinched his triple crown on Turkey Night at Bakersfield Speedway in 1995. (Which I was personally there to witness)
I was born and lived part of my life in Bakersfield and the surrounding area. Contrary to popular belief, Bakersfield is not a small town, with a population of over 247,000, it is definitely and up and coming community. It is no longer just a town for cowboys - they have alot of rock-n-rollers there too. Bakersfield residents are proud of it's sons and daughters that "make it". One of their favorite residents, Buck Owens, has also shown his loyalty to community. His restaurant, The Crystal Palace, is located on Buck Owens Boulevard in the heart of Bakersfield. Buck's loyalty shows by not moving his interests to Branson, MO as many of his contempories have. Thanks, Buck!!!
If you have a Bakersfield Driver that you would like to have featured on this page just send me a bio on the driver, a picture, and a link to their website (if available). I would love to feature any and all racers (male or female) from Bakersfield on this page. Just click on the email link at the bottom of this page to send the information.

Kevin was born in Bakersfield, CA on December 8, 1975. He is definitely a home town boy to all residents of Bakersfield. He grew up in his father's racing garage. Kevin started racing in the NASCAR Southwest Series in 1992. This included many races at Bakersfield's home track, Mesa Marin Raceway. He raced a limited schedule in 1992 and 1993. He was the champion at Mesa Marin Raceway in 1993. He progressed to a full season in 1995, where he earned the NASCAR Southwest Series Rookie of the year. He then began racing in the NASCAR Winston West Series from 1996 - 1999. Kevin won the series championship in 1998. He then had a short career in the NASCAR Craftsman Truck Series where he met Richard Childress. He began his Busch Series Career in February 2000 where he again earned rookie of the year honors. In 2001, with the loss of Dale Earnhardt, Kevin was asked to assume the driving responsiblities for the GM Goodwrench Service Plus Monte Carlo. Kevin drove in both the Busch Series and Winston Cup Series for the entire season. He clinched the Busch Series Championship one week before the final race. In 2002, Kevin captured the IROC Championship. I think there is no stopping this guy!! The rest, as they say, is history.

Kevin's impact on his hometown of Bakersfield is tremendous. The local newspaper, The Bakersfield Californian, follows his career closely with right ups on the front page almost every week during race season. Being from Bakersfield, I personally saw him race several times during his early career. He was an agressive driver and a favorite of the local girls. Mesa Marin is a track where fans can get up close and personal with the drivers. Every weekend the drivers line up at pit wall and the fans are allowed on the track to get autographs from their favorite drivers. Kevin was always surrounded by lots of young female fans. I'm sure many were disappointed when he married DeLana Linville on February 28, 2001. Kevin is very loyal to his hometown. It has become an annual event to have "Kevin Harvick Night" at Mesa Marin Raceway during the weekend of the California 500, in which he competes in the local races. In 2002, Kevin missed qualifying and started last in the field. Of course, Kevin still took the win.

Pictured: Kevin with my mother - Bakersfield, CA 1999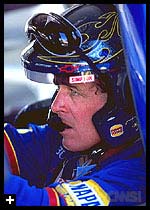 Born June 20, 1958 - Hometown: Palmdale, CA. Prior to Kevin Harvick, Bakersfield had Ron Hornaday. Ron is not from Bakersfield, but living in Palmdale, Mesa Marin Raceway was considered Ron's home track. Ron's father, Ron Hornaday Sr., was a two-time NASCAR Winston West Series Champion. It was only natural that he would become a racer and fan favorite. Ron raced in the Southwest Featherlite Series and the Winston West Series at Mesa Marin Raceway. He won the Southwest Series Championship in 1992 & 1993. He was voted the series favorite driver in 1993. Ron was second in the Winston West series in 1994 and was voted the most popular driver in the same year. Ron had a total of 17 career Winston West Series Victories. In the NASCAR Craftsman Truck Series, he won the championship in both 1996 & 1998. He was voted the most popular driver in 1997. In 1998, Ron set the record of 25 wins in the Craftsman Truck Series. In 2000, he was voted the Busch Series Most popular driver. He began racing a full season in Winston Cup in 2001 for A.J. Foyt Racing.
Ron's expertise at Mesa Marin Raceway is legendary. There is noone who knows the grove of that race track better. Ron readily shared his expertise with other drivers. It was a joy to listen to him on the radio with other drivers as he coached them around the track during practice. Residents of Bakersfield surely miss seeing Ron at the track on a regular basis. Keep it up Ron!!

Born March 12, 1978 - Bakersfield, California. Casey is the son of Roger Mears and is a member of one of the best known racing families in history. New to Winston Cup Racing in 2003, Casey is definitely not new to racing. Racing is pretty much the only thing Casey has known. He began racing BMX bikes in Bakersfield in 1982. He then graduated to racing ATV's in 1984 at the Bakersfield Speedway. In 1991, for a single season he raced go-karts. Casey began competing in the Superlite Off Road Series in 1992, where he posted several top 3 finishes.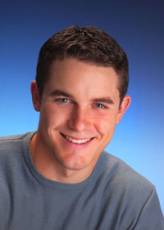 In 1994, he began racing in the USAC Triple Crown Championship with a win at Mesa Marin Raceway. He completed the season 3rd in points. In 1995, he won the Championship. 1996 - 2000 he competed in the Indy Lights Series, losing the championship in 1999 by only 14 points. In 2000, he was offered a chance to drive for Bobby Rahal in CART, at the California Speedway. He qualified 15th, led 10 laps, and posted a career best fourth place finish in his first race. In 2001, Casey ran in 3 IRL races and finished the season substituting for the injured Alex Zanardi in the CART Series. It was assumed that Casey would continue the Mears legacy in open wheel series, but it hasn't worked out that way. In October 2001, Casey made his debut in a stock car in the ARCA series at the Talladega Superspeedway. He had a respectable 9th place finish. He began his Busch Series Debut in 2002 driving the No. 66 Welliver-Jesel Motorsports Car. New to Winston Cup in the 2003 season, Casey will be driving the #41 Target Dodge. Congratulations to Casey - and good luck in Winston Cup!!!

Brad Pollard

Brad with pre-race mentor, Bakersfield legend Rick Mears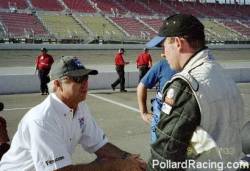 Brad Pollard came to know racing as he watched his cousin, Art Pollard, successfully compete in Indy cars in the mid 60's and early 70's. "Art had a profound affect on me growing up. He was always so kind and generous with his time and smiles". Brad crawled behind the wheel of a go kart at the age 11 and knew that was what he wanted to do someday, trying to follow in Art's footsteps.
After Art's tragic accident, at Indy in May of 1973, Pollard would not touch a race car again until age 17. Against his father's knowledge and will, Brad drove a Fiat Spider in an SCCA Autocross in Bakersfield, California. "I don't remember if I was any good at it but I knew it was something I wanted to continue doing if at all possible".
While growing up Brad competed in Football and Track & Field as a Pole Vaulter. He was the first ever high school vaulter, in Kern County, California ever to clear 15 feet. He went on to pole vault for Bakersfield College and Fresno State. While attending Fresno State University, Brad ski raced giant slalom and slalom, winning several races.
It wasn't until 14 years later that Pollard slipped behind the wheel of a Formula Ford at the Russel driving school at Sears Point, California. "I always knew that I wanted to race and be just like Art, this class confirmed it. It is hard to gauge if you're good enough at something to pursue it professionally. My instructors said I had a level of natural ability that needed to be developed. I spent the next 4 years trying to get into some kind of car but no luck, I was just too busy working and racing proved to be too costly".....see more of Brad's Story

Jason Small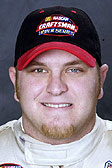 Born June 7, 1979 in Bakersfield, CA. Jason began racing ATV's at the age of 6, finishing 3rd in his first race. He was addicted. He eventually won half the seasons races and won a championship. He continued his racing in Odysseys and Go-Karts. Jason regularly drove against another hot driver at Mesa Marin Raceway, who was a few years older than him, Kevin Harvick. In 1998, while in high school, he drove late models at Mesa Marin Raceway and finished second in the points missing the championship by 5 points. Jason was Rookie of the Year in 1999 in the NASCAR Winston West Series. He sat on the pole in his very first Winston West race and finished the season 6th in points. He earned an invitation to race in the Motegi Thunder Special 500 at the end of the year. It was his first experience racing with the Winston Cup regulars and he finshed the race in 9th place. In 2000, he made his NASCAR Craftsman Truck series debut in a family owned truck. Running only a partial season in Trucks in 2001, he came back to Mesa Marin Raceway to run a partial Late Model season where he won 4 out of 10 races and finished in the top 3 eight times. In 2002 he joined Joined Green Light Racing in the Truck series finishing 21st in points. I believe there are many great things ahead for Jason!

Rick Mears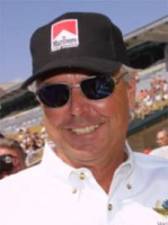 Rick was born December 3, 1951 in Wichita, Kansas, but in 1954 the family moved to Bakersfield, California. He began his racing career in his teen years racing in off road motorcycle events in California. He then switched to racing a dune buggy built by his father, Bill Mears. By 1972, Rick and his brother Roger, were leading contenders in the off road vehicle class. In 1976, Rick won races in Formula Vee and Super Vee SCCA nationals. He also drove in Formula 5000. Later that year he was named USAC Rookie of the year and won the Pike's Peak Hill Climb. In 1977, he met Roger Penske and was offered a ride substituting for Mario Andretti, in Indy Car when his formula schedule conflicted with the Indy Racing schedule. In 1978, he was named Indy 500 Rookie of the Year. In 1979, Rick won his first Indianapolis 500 starting from the pole. He then went on to win his first Indy Car Championship. He won his 2nd & 3rd championships in 1981 & 1982. Rick won his 2nd Indianapolis 500 in 1984 - A 3rd in 1988 - And a fourth in 1991. He is also the only driver to win 6 Indy 500 Poles. Currently tied with legends A.J. Foyt and Al Unser Sr as the winningest drivers at the Speedway. He now holds the record for most pole positions in a 500 mile race at 15, and is tied for 2nd in most 500 mile race wins with 8. Rick retired from racing in 1992 but continues to work in the field. Rick was inducted into the MotorSports Hall of Fame in 1998. He now resides in Jupiter, Florida

Roger Mears
Roger Mears, son of racing legend, Bill Mears was born in Wichita, Kansas and in 1954 the family moved to Bakersfield, California. Roger is the older brother of Rick, father of Casey & Roger Jr, and uncle to Clint. He is known as an "Off Road Specialist". Roger was a five time class champion in the Pike's Peak Hill Climb in 1972-73, 1985, 1998-99. He was the winner of the Baja 1000 in 1979, 1986, 1989, & 1991. Roger has to his credit 20 Off Road World Championships and is a two-time SCORE/HDRA Desert Champion (1989, 91). In 1993, Bill Mears joined son Roger and grandson, Roger, Jr. to compete in the annual Pikes Peak International Hill Climb. Bill drove a pickup truck and finished first with Roger, Jr. second. Roger, Sr. finished third and Rick Mears drove the pace car. Not all his racing was done off road. Roger does have 30 career Indy car starts with the Machinist Union team in the 1980's. He was named CART's Most Improved Driver in 1982. Although Roger is no longer racing himself he does continue to work in the sport. He also continues to call Bakersfield home.

Bruce Sarver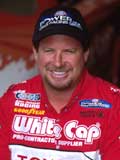 Born January 11, 1962, Bakersfield, CA. Bruce currently drives the Foxen Canyon Toyota Celica in Funny Cars. Bruce began his racing career in 1974 driving Go-Karts. He won 3 races in his first year. In 1975, he joined the Bakersfield Kart Club and was Rookie Junior Champion. Between 1975 & 1994 he claimed 176 major karting events. Bruce won the California IKF Championship in 1978 and Junior Club Champion in both 1975 and 1977. He won the Central Valley Championship in 1979,1980, & 1990. He was NorCal Champion in 1980, 1987, and 1989; Southern California Champion in 1980; Region seven Champion in 1987. Bruce owned his own Pro Stock Team in 1985, he won 5 races in the NASCAR Winston West Series at Mesa Marin Raceway including the Coca-cola 100 in late model stock cars. In 1994, Bruce sold his stockcar team to participate in NHRA Drag Racing. In 1995 he attended Drag Racing School in Gainesville, Fl. 1996 was his rookie season in NHRA. He completed the season 13th in points with 3 semi final finishes. He qualified for every race but one. In 1997, he appeared in one final round appearance and five semi-finals. He finished the season 11th in points and 9th in Bud Shootout Points. 1998 Bruce finished 10th in NHRA Winston Top Fuel points. He had one final round race and 3 semi-final challenges. One "event top speed" and was the second fastest qualifier at the US Nationals in Indianapolis. In 2000, He began driving a Funny Car and won his first career event. 2001, Bruce finished in the top 10 of the Funny Car standings for the second straight year. He opened the season with a win at Pomona. In 2002, he finished 11th in Funny Car Standings despite missing the first seven events. Recorded his career best time and speed. Bruce qualified number 1 three times.

Clint Mears
Clint, born in Bakersfield, California is the son of 4 time CART Champion, Rick Mears. It is only natural that Clint would follow his father into motorsports. Clint has driven in the Winston West Series, the Indy Lights, and the NASCAR Craftsman Truck Series. In 1997, his first victory in Indy Lights came at the same track, Milwaukee that his father had his first Indy Car Win in 1978. He won the final event of the season in the Inaugural Race at Fontana. Clint was 3rd in points in both 1993 & 1994 in the USAC Pro Points. He has also driven in SCCA Toyota Atlantic Series where he finished 11th in points in 1994 and 9th in points in 1995.

Roger Mears Jr

My Jeff Gordon Page