Adolph Edward Chorengel


Born August 1, 1878, in Chicago, Cook County, Illinois. Adolph was the eldest child and only son of Johann and Augusta Chorengel. Not much is known about his younger years in Chicago.
Adolph spent some time in New York and worked as a chauffeur for racing legend Barney Oldfield. Adolph was quite the ladies man, which in three incidents got him in trouble. This life style would eventually cost him his life.
In approximately 1895 he married Hulda Strom in Chicago, Illinois. She was born in Vesteros, Sweden approximately February 1876. The family frowned on this marriage and rumors are they had to get married. They lived in Chicago where they had four children. Two sons and two daughters. The two sons although three years apart would die within two days of each other from Diphtheria. They would be buried at Montrose Cemetery, Chicago, IL side by side. The cemetery and Cook County buried the children with no cost to the family and there is no headstone on the graves. Children of Adolph and Hulda:
Harry Chorengel - born April 1896, Chicago, IL - died October 21, 1903, Chicago, IL
Edna Chorengel - born January 1898, Chicago, IL
Joseph Frederick Chorengel - born February 1899, Chicago, IL - died October 19, 1930, Chicago, IL
Mildred Augusta Chorengel - born March 26, 1901, Chicago, IL - died October 1983. Married Edward P. Virnick on March 6, 1920 in Lake County, Indiana.
It is believed that this marriage ended in divorce. Could it be because of his philandering? The next record I located the family was totally unaware of.
In approximately 1915 Adolph had a relationship with a woman named Anne Olson. She was of Norwegian descent. They apparently married only to give the baby a name. They divorced soon after the baby died. I found a death record in Duluth, Minnesota for a Chorengel child. Upon receiving the death certificate I was surprised to see whom the father of record was. Child of Adolph and Anne:
Walter Edward Chorengel - born May 25, 1916, unk birth place - died September 25, 1916, Duluth, St Louis County, Minnesota.
Pictured: Left - Adolph with Mabel, sitting - John Chorengel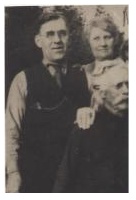 On October 23, 1918 Adolph married Mabel C. Arlin in Lake County, Indiana. This marriage would not last but a few years. They did not have any children. Shortly after the rest of the family relocated to California, Adolph and Mabel followed. They lived with Adolph's parents in Los Angeles, CA. Mabel became homesick for Chicago and went back after a couple years in California.
After Adolph's father, John, died in 1925 he continued to live with his mother, Christiane "Augusta" Chorengel. Augusta had a $1000.00 life insurance policy on John and that is what they were living on. Adolph himself was ill and wasn't working.
Hannah Sophie Chorengel Suydam, Adolph's sister, and her husband Elbert Suydam soon went to Los Angeles and got Adolph and his mother and brought them to live with them in the Rio Bravo area of Kern County, California. There Adolph would die thirteen years prior to his mother in 1928. Cause of death, stated by the family, was Syphilis. Cause of death listed on his death certificate was from lung cancer.
With the death of Adolph's three sons the Chorengel name ceased in America. The lineage was now left up to only the granddaughters of Gerhardt Frederick Chorengel. I have always felt sad about that. I have always felt the Chorengel name, meaning "Choir Angel" was quite beautiful.
Adolph had very little contact with his two daughters who remained in Chicago with their mother. We know little about what became of them. If you are a descendent of Mildred Augusta Chorengel Virnick or Edna Chorengel, I would love to hear from you. Please sign the Chorengel guestbook or e-mail me personally.

Sign the Chorengel Guestbook





Chorengel Family Page

My Genealogy Pages | NASCAR Webrings | My Jeff Gordon Page | Contact Me